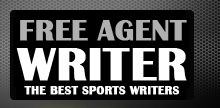 Yankee Addicts
Categories
Featured Sponsors
December 2012 Archive
December 30, 2012
As the playoffs draw near, the Ravens get set to avenge their loss in last year's AFC Championship game. The way that game ended was astonishing to Ravens players and ...
December 30, 2012
Cleveland Browns head coach Pat Shurmur and general manager Tom Heckert are expected to be fired on Monday, according to Mary Kay Cabot of The Plain Dealer.Despite not being officially ...
December 30, 2012
In most other years, Andrew Luck, Russell Wilson or even Alfred Morris could all have easily won an Offensive Rookie of the Year award. But 2012 is no such year. ...
December 30, 2012
Making the wrong move will lose you your fantasy football title.With the final week of the NFL season approaching, it's appropriate to handle your fantasy team with the finest of ...
December 30, 2012
The Pittsburgh Steelers 2012 season is coming to a disappointing end, regardless of whether they beat the Cleveland Browns in Week 17 or not. For all the talk about the ...
December 30, 2012
When the Denver Broncos 10-game winning streak was still young, Peyton Manning's MVP buzz was at an all-time high.Now that the team is viewed as one of the best in ...
December 30, 2012
The stakes couldn't be much higher for the Minnesota Vikings as they get set to host the Green Bay Packers in the season finale on Sunday at Mall of America ...
December 30, 2012
The Denver Broncos (12-3) can wrap up a first-round bye in the playoffs with a victory over the Kansas City Chiefs (2-13) on Sunday afternoon. If Denver does secure the ...
December 30, 2012
Unless you're one of those kooks that plays in a fantasy football league that holds its championship game in Week 17 (which this year isn't going to be a huge ...
December 29, 2012
Sunday will likely be Tim Tebow's last game as a member of the New York Jets, but that doesn't mean the Tebowmania phenomenon is going to end anytime soon. From ...