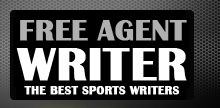 Yankee Addicts
Categories
Featured Sponsors
January 2013 Archive
January 30, 2013
The Jacksonville Jaguars seem to have a long way to go before they can even begin thinking about making the playoffs for the first time since the 2007 season. They ...
January 30, 2013
Super Bowl advertisements are always a hot topic leading up to and during the big game, so it only makes sense that movie trailers for some of the highly anticipated ...
January 30, 2013
We know about the quarterbacks. We know about the linebackers. And everyone has heard about the sibling rivalry with the coaches.Super Bowl XLVII will be decided by the "big uglies," ...
January 30, 2013
There is plenty of room for improvement on the Bears' roster if they expect to compete at the highest level next season.GM Phil Emery has brought in Marc Trestman to ...
January 30, 2013
The Pittsburgh Steelers aren't known for long stretches of being out of contention, so it is reasonable to expect the team to reload rather than rebuild. This 2013 offseason is ...
January 30, 2013
Super Bowl XLVII is a nightmare for Steelers fans. Those who bleed black and gold have legitimate reasons not to root for either the 49ers or Ravens. Under normal circumstances, ...
January 30, 2013
The Oakland Raiders need defensive players. There isn't a position on defense in Oakland that couldn't use an infusion of talent, but the need for a pass-rusher is the most ...
January 30, 2013
The last time I wrote I made a case that the then-current Cleveland Browns regime should still have the support of the fans.Alas, the Mike Holmgren Machine came crumbling apart ...
January 30, 2013
Anything less than a Super Bowl is considered to be a disappointment for the Pittsburgh Steelers. As you can imagine, an 8-8 finish last season means that changes must be ...
January 30, 2013
The upcoming 2013 NFL draft in April will be a critical one for many teams, and the Tennessee Titans are one of those teams who need instant contributors.If you look ...