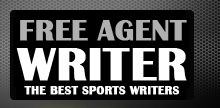 Yankee Addicts
Categories
Featured Sponsors
February 2013 Archive
February 27, 2013
There's no clear-cut favorite to go number one overall in the 2013 NFL draft. And there's certainly no favorite to go to the Philadelphia Eagles at the fourth pick. Chip ...
February 27, 2013
The NFL scouting combine can be a make-or-break event for many players' draft stock. Sometimes, it is just another workout. That's exactly how Luke Joeckel's mediocre display should be viewed. ...
February 27, 2013
With the 2013 NFL combine coming to a close on Tuesday, a lot of prospects have been shuffled around on draft boards across the country.The athletic freaks of the class ...
February 27, 2013
The NFL combine has come and gone. Once again there are some players who shined, and others who did not have the showing they were looking for.There were 73 early ...
February 27, 2013
The Washington Redskins might have another cook in the front office kitchen, as the team is interested in former San Diego Chargers general manager A.J. Smith as a team advisor/consultant, ...
February 27, 2013
Desmond Trufant's offseason just keeps getting better and better. It all started back in January at the Senior Bowl, where Trufant began his ascent up NFL draft boards. Trufant entered Senior Bowl ...
February 27, 2013
With April's draft looming, New England Patriots personnel were on hand for the 2013 NFL scouting combine in Indianapolis.From Feb. 20 to Feb. 26, 333 draft prospects showcased their skills, ...
February 27, 2013
Despite a bump or two along the road, Denard Robinson's attempt to carve out an NFL career is right on schedule.Robinson atoned for his poor showing at the recent Senior Bowl by ...
February 27, 2013
For a team that put an emphasis on running the football, the Pittsburgh Steelers were not very good at it last season. Despite running the ball on what seemed like nearly ...
February 27, 2013
The NFL deadline for applying the franchise tag is fast approaching on Monday, March 4 and the Kansas City Chiefs are still mulling over what they intend to do with ...