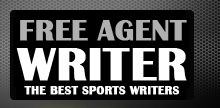 Yankee Addicts
Categories
Featured Sponsors
May 2013 Archive
May 31, 2013
It would be naive to think 32 mega-rich NFL owners would never collude in hopes of aiding each other financially .New San Diego Chargers defender and former Indianapolis Colts star Dwight Freeney has made ...
May 31, 2013
The Cincinnati Bengals open their season at the Georgia Dome against the Atlanta Falcons on September 8th and there are a handful of rookies that will contribute when that day ...
May 31, 2013
Back in April, I examined what the New Orleans Saints' new-look defense might bring to the table in 2013. New defensive coordinator Rob Ryan will unfurl a 3-4 defensive scheme ...
May 31, 2013
When the Denver Broncos lost defensive end Elvis Dumervil, some thought the defensive line would fall apart. Then, the front office struck.Denver lost Dumervil to the Baltimore Ravens ...
May 31, 2013
There are currently in excess of 80 players on the practice fields of One Buc Place participating in the Tampa Bay Buccaneers offseason program. Any coach will tell you this is ...
May 31, 2013
The Green Bay Packers currently have 89 players on their roster. That needs to be shaved down to 53 at the end of training camp and the start of the ...
May 29, 2013
When it comes to evaluating and drafting players, one of the most forgotten aspects is schematic fit. A prospect could have all of the necessary measurements, but if he doesn't ...
May 29, 2013
With OTAs, minicamp and training camp all on tap for the New England Patriots, the time is now for position battles to begin brewing in Foxborough.Strong safety will be one ...
May 29, 2013
The New York Jets' quarterback depth chart has thinned in recent weeks, igniting a two-man competition this offseason between rookie phenomenon Geno Smith and second-rate incumbent Mark Sanchez.The team will ...
May 29, 2013
Former NFL quarterback Cullen Finnerty was found dead in Lake County, Mich., on Tuesday evening. He was 30 years old. WZZM 13, an ABC affiliate in Grand Rapids, posted the news on ...