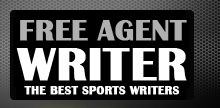 Yankee Addicts
Categories
Featured Sponsors
September 2013 Archive
September 28, 2013
There are going to be some tightly contested, low-scoring affairs in Week 4 of the NFL season, but there are also going to be some old-fashioned shootouts. Chances are, you prefer ...
September 28, 2013
Week 4 of the 2013 NFL season is already upon us, and several marquee teams playing at home have been picked to lose. All of the following teams will fall flat ...
September 28, 2013
Yes, the Green Bay Packers limped into their bye week with a 1-2 record. Plus, the team is already two games behind the 3-0 Chicago Bears in the NFC North. The ...
September 28, 2013
The wisest gamblers are the ones that stay away from the games that just look tough to bet on. Every week, there's a number of contests that the bookmakers offer ...
September 28, 2013
Although it's difficult to say with 100 percent certainty which teams are for real and which aren't just three weeks into the NFL season, there is no doubt that some ...
September 28, 2013
Fantasy football is all about making smart week-to-week decisions. Whether it's in the draft, on waivers or just managing the lineup, those that are more educated and take calculated risks ...
September 28, 2013
Running back Trent Richardson provided modest production last week in his first game as an Indianapolis Colt, but with an easy matchup and a clear path to playing time in ...
September 28, 2013
The Dallas Cowboys have a chance to be 3-1 and take early control of the NFC East at this stage of the season. Granted, it is early, and history has ...
September 28, 2013
It's an inescapable law of football physics: defense always wins. Since the dawn of football history, defenses have always had the advantage over offenses. Even when new players, new coaches or ...
September 28, 2013
After three weeks, it should be clear even to novice fantasy football owners that every tough lineup decision can be the difference between winning and losing. Ultimately, it's debating those ...