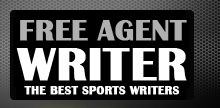 Yankee Addicts
Categories
Featured Sponsors
October 2013 Archive
October 30, 2013
Sidney Rice is out for the year with an ACL tear. If you had him in fantasy football, you need to make a move and fast! NFL Analyst Aaron Nagler has ...
October 29, 2013
Week 9 in the NFL signals the midway point of the season, and as such, there are some tricky decisions to make with many of the league's stars on bye ...
October 29, 2013
Early in the second quarter of the Detroit Lions' 31-30 victory over the Dallas Cowboys, wide receiver Calvin Johnson dropped a pass from quarterback Matthew Stafford that eventually ended up ...
October 29, 2013
Boomer Esiason dishes on the value of the backup NFL quarterback with Reese Waters on this week's Behind the Mic. Watch now as Boomer breaks down the difficulties of the ...
October 29, 2013
Reese Waters poses an interesting question to Boomer Esiason on an all-new Behind the Mic: "What team would Boomer play for if he was in the league today?" Watch to ...
October 29, 2013
The Seattle Seahawks now more than ever provide little from a fantasy perspective outside of the running back position with Marshawn Lynch. Quarterback Russell Wilson's fantasy forecast has been minimal all ...
October 29, 2013
Vikings quarterback Christian Ponder and his ESPN reporter wife Samantha Steele-Ponder channeled their inner Sandlot for Halloween this year, dressing up as Squints and lifeguard Wendy Peffercorn.  The two do a ...
October 29, 2013
Phil Simms' joins Behind the Mic to discuss some cliched on-air vocabulary that fans of the NFL usually hear during their favorite games. Watch Phil as he takes on his least ...
October 29, 2013
If I'm the Dallas Cowboys, my only issue with what happened between Dez Bryant and some of his coaches and teammates on the sideline Sunday in Detroit is that the ...
October 29, 2013
At 7-1, the Denver Broncos no longer have the best record in the AFC. In fact, they don't even have the best record in their own division. That distinction belongs to ...