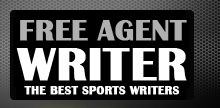 Yankee Addicts
Categories
Featured Sponsors
November 2013 Archive
November 30, 2013
If last week's game against the Dallas Cowboys was the New York Giants' in-season "Super Bowl," then what does this make this weekend's prime-time clash against the Washington Redskins? Certainly a ...
November 30, 2013
There is nothing quite like playing at home, especially when things are not going that well on the road. As is the case with other sports, the NFL features a number ...
November 30, 2013
Stevan Ridley of the New England Patriots has recently begun to live up to his preseason-fantasy expectations. Even more recently, he has begun to have a relapse of the dreaded ...
November 30, 2013
While people normally look at points spreads to make their bets, there are often plenty of opportunities to make money through over/unders. In Week 13 of the NFL season, every single ...
November 30, 2013
Week 13's slate of Thanksgiving action did little to tell fans about the NFL as a whole. Fans know Detroit is a good team. Most are against an Aaron Rodgers-less Green ...
November 30, 2013
Many of the toughest decisions a fantasy football owner must make during the course of a season involve figuring out when to bench stars. It's never easy to sit a ...
November 30, 2013
It's crunch time for fantasy football owners everywhere. In a season highlighted by unrivaled parity, analyzing matchups and researching trends have become even more crucial to fantasy success. With kickoff right around ...
November 30, 2013
Several superstars from the AFC had lackluster performances in their most recent games, but given their matchups and respective circumstances, they are in line to bounce back in Week 13. The ...
November 30, 2013
You are a pro at setting your fantasy lineup by now. Not only are there no bye weeks to make for challenging decisions on fringe players, but six teams have ...
November 30, 2013
After two consecutive losses, the Kansas City Chiefs head into their second showdown with the Denver Broncos in the last three weeks. The first loss was in Denver, with this ...