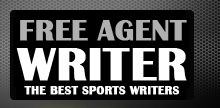 Yankee Addicts
Categories
Featured Sponsors
December 2013 Archive
December 31, 2013
With the 2013 NFL regular season in the books, the NFL draft order continues to take shape. The top 20 picks are now locked in as the playoff teams are ...
December 31, 2013
With six NFL head coaching jobs suddenly open after Black Monday's firing squad went to work following the end of the regular season, there's plenty of speculation and rumors about ...
December 31, 2013
Percy Harvin may have spent 15 of the Seattle Seahawks' 16 regular-season games on the sideline in 2013, but his versatility makes him an undeniable factor for the upcoming NFL ...
December 31, 2013
After another disappointing 8-8 season, the Dallas Cowboys are yet again left to ponder where it all went wrong. It's crucial that the Cowboys figure out the answers to how ...
December 31, 2013
There are some truly excellent matchups in the Wild Card Round of the 2013-14 NFL playoffs.  Two of the league's most exciting offense square off. There's a rematch from last year's ...
December 31, 2013
The Green Bay Packers' victory over the Chicago Bears in Week 17 on a 4th-and-8 bomb from Aaron Rodgers to Randall Cobb was one of the most dramatic plays of ...
December 31, 2013
With the NFL playoff picture finalized, it's time to look ahead and see which teams are poised to potentially make a Super Bowl run. You can find early Super Bowl odds ...
December 31, 2013
Sometimes, life is funny. The best laid plans are often undone because of the most fundamental of faults. For the Pittsburgh Steelers, what started off as a nightmare of epic ...
December 31, 2013
Alfred Morris is really interested in your Mike Shanahan questions, and he's going to let you finish, but Chik-fil-A is about to stop serving breakfast.  If Morris weren't already my favorite ...
December 31, 2013
Fact: Washington Redskins coach Mike Shanahan was 47-17 with two Super Bowl rings with John Elway as his quarterback and 123-121 with one playoff game win without him.  Bleacher Report will ...