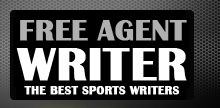 Yankee Addicts
Categories
Featured Sponsors
March 2014 Archive
March 29, 2014
The Green Bay Packers appear to be in excellent shape in terms of the 2014 NFL draft. The Packers currently have nine draft picks, with one in each of the ...
March 29, 2014
In the sixth round of the 2000 NFL draft, the New England Patriots arguably made one of the best draft picks ever. Former Michigan quarterback Tom Brady was on the ...
March 29, 2014
The Green Bay Packers took a calculated risk when they agreed to a three-year, $26 million deal with 34-year-old defensive end Julius Peppers.  Determined to get more disruptive and versatile in ...
March 29, 2014
The start of the new league year earlier in March also marked the beginning of the free-agency periods. Teams with roster holes could begin filling them with veteran players of ...
March 29, 2014
Pro-player comparisons are a great tool for getting to know a prospect before the NFL draft. They are not usually meant to set the bar for a player's career, but ...
March 29, 2014
It's pretty simple why the NFL draft has become such a cultural landmark. Every team has the same chance to improve its roster. It represents hope. One pick can change a ...
March 29, 2014
It wasn't that long ago, fresh off of a 2,000-yard season in 2009, that Chris Johnson was considered arguably the best running back in the NFL, a surefire superstar in ...
March 29, 2014
Carolina Panther general manager Dave Gettleman has been busy this offseason—some Carolina fans would argue not busy enough, with many roster holes still open weeks into free agency. Former wide receiver ...
March 29, 2014
Shocking news broke in the NFL on Friday.  The Philadelphia Eagles cut Pro Bowl wide receiver DeSean Jackson, via Josh Katzowitz of CBS Sports.  The team had been shopping him ...
March 29, 2014
Forget about the alleged gang ties. Ignore the cap hit. Look past the rumored attitude issues.  The primary reason DeSean Jackson was cut by the Philadelphia Eagles on Friday was because ...