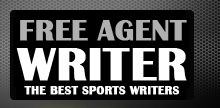 Yankee Addicts
Categories
Featured Sponsors
April 2014 Archive
April 29, 2014
If you gather up of all of the memorable runs by a backup quarterback, you'll find it's a giant teaspoon of a list: Hostetler's Super Bowl charge with the '90 ...
April 29, 2014
The 2014 NFL draft is two weeks later than usual this year. This means two extra weeks of predictions, and even those players who are locks for the first round ...
April 29, 2014
Cliff Christl of Packers.com wrote an interesting article last weekend that talked about why right guard Jerry Kramer is not yet in the Pro Football Hall of Fame. Since I have ...
April 29, 2014
NFL analysts' fingers are getting calloused and their eyes are getting bleary. "#DraftTwitter" is at a rolling boil, and mock drafts are being pushed to the Internet as fast as NFL ...
April 29, 2014
Who are the best pass-catchers in the NFL draft class of 2014? That's a tricky question—especially when you factor in the best tight ends and wide receivers.  This year's class has ...
April 29, 2014
Everyone seems to have an opinion when it comes to the NFL draft and the prospects hoping to be selected, but ESPN's Todd McShay has proven throughout the years that ...
April 29, 2014
The Cleveland Browns may very well select their quarterback of the future in the upcoming NFL draft, but incumbent signal-caller Brian Hoyer may be working his way back into the ...
April 29, 2014
The NFL draft could serve as a CIA course on counterintelligence. Rumors are concocted, teams hide their true intentions close to the vest and nobody really knows which teams want ...
April 29, 2014
"Controversial" is a relative term. We like to think of it as "things we disagree on vehemently" here at Bleacher Report. It cuts down on chair throwing. Nothing brings out the disagreements ...
April 29, 2014
The NFL draft is always surrounded by mystery and misinformation. That is as true as ever this year.  There's plenty of rumors floating around that shed clues as to how this ...