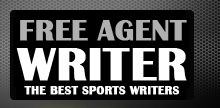 Yankee Addicts
Categories
Featured Sponsors
May 2014 Archive
May 31, 2014
The Miami Dolphins were probably hoping for more production from the No. 3 overall pick last year, former Oregon standout Dion Jordan, whom the Dolphins actually traded up to draft ...
May 31, 2014
The New York Giants will be without a key young player on the back end of their defense for the first six weeks of the 2014 season, as safety Will ...
May 30, 2014
Josh Gordon's offseason hit another snag when the Cleveland Browns wide receiver was caught speeding in Strongsville, Ohio, over Memorial Day weekend, per Matthew Florjancic of WKYC in Cleveland: According to ...
May 30, 2014
The battle to be on the cover of Madden NFL 15 is down to two. The next week of voting will decide who wins between Richard Sherman of the Seattle ...
May 30, 2014
Minnesota Vikings left tackle Matt Kalil has not participated at OTAs as he recovers from knee surgery. When can the Vikings expect to see Kalil back on the practice field?  Is ...
May 30, 2014
New England Patriots tight end Rob Gronkowski is sitting out organized team activities as he recovers from ACL surgery. When can the Patriots expect Gronk back on the practice field?  Will ...
May 30, 2014
After a well-executed offseason that consisted of key free-agent signings and top-notch draft picks, the Arizona Cardinals were delivered a punishing blow on Friday. According to Ross Jones of FoxSports.com, the ...
May 30, 2014
The New York Giants released backup quarterback Josh Freeman Friday just over a month after signing him, according to Giants.com's Michael Eisen. New York signed Freeman April 21 to bolster its quarterback ...
May 30, 2014
According to NOLA.com's Katherine Terrell, New Orleans Saints safety Jairus Byrd underwent back surgery on Thursday. How long will he be sidelined? Can the Saints expect their free-agent investment to return to ...
May 30, 2014
New York Giants safety Will Hill has been suspended by the NFL for the first six games of the 2014 regular season after violating the league's policy and program for ...