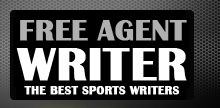 Yankee Addicts
Categories
Featured Sponsors
June 2014 Archive
June 28, 2014
There are no guarantees in this NFL—especially when it relates to contracts. Sure, there's guaranteed money doled out every offseason. There are also players like Darrelle Revis, DeMarcus Ware and Julius ...
June 28, 2014
In the 2014 offseason, the San Francisco 49ers re-signed a 1,000-yard wide receiver, drafted a highly rated center prospect and traded for an offensive threat from the AFC East. All three ...
June 28, 2014
The New York Jets were desperate for a wide receiver who possessed game-changing speed in the 2012 NFL draft, prompting former general manager Mike Tannenbaum to pull the trigger on ...
June 28, 2014
Free agency is not over. Sure, the cream of the 2014 crop has already claimed its costly contracts. Even the second- and third-wave signees have settled into new roles with new ...
June 28, 2014
This offseason has brought several big changes to the Baltimore Ravens. For instance, they lost offensive coordinator Jim Caldwell after he became the head coach of the Detroit Lions.  That may or ...
June 28, 2014
The Detroit Lions made Super Bowl moves this offseason. Don't agree? I don't care.  Actually, I do because it's the truth. This franchise made the type of decisions that lead to success, ...
June 27, 2014
When it comes to preparing for your fantasy football draft this summer, Khiry Robinson is a name you might want to get to know. There is a lot to like about ...
June 27, 2014
Eli Manning led the NFL in interceptions in 2013 for the third time in nine full seasons as the New York Giants' starting quarterback. Just days after his Giants finished ...
June 27, 2014
The Cleveland Browns knew what they were getting off the field when they selected Johnny Manziel in the first round of the 2014 NFL draft, but they're apparently not big ...
June 27, 2014
Teddy Bridgewater is about making every rep count—virtual or otherwise. Ben Goessling of ESPN.com reports the Minnesota Vikings rookie quarterback is, in addition to working hard on the field, using Madden to ...