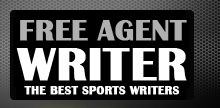 Yankee Addicts
Categories
Featured Sponsors
July 2014 Archive
July 29, 2014
During training camp, Drew Brees and the rest of the New Orleans Saints quarterbacks are having some fun with a QB competition. The team's Twitter account shared the above video of Brees ...
July 29, 2014
Atlanta Falcons running back Steven Jackson was held out of training camp practice Tuesday after suffering a left hamstring injury on Monday.        Coach Mike Smith told reporters that Jackson should be ...
July 29, 2014
Are you ready for some football? Of course you are. Who wouldn't be? Well, the magic day is getting closer. By the end of this week, the Buffalo Bills and New York ...
July 29, 2014
Things are certainly looking up for the Minnesota Vikings as the Mike Zimmer regime begins at training camp in Mankato, Minnesota. Bogged down by four disappointing seasons in a row since ...
July 29, 2014
The Baltimore Ravens entered training camp with several position battles at crucial positions. It's safe to say three starting spots are up for grabs based on how the offseason has transpired. ...
July 29, 2014
Oakland Raiders owner Mark Davis has reportedly been in talks with San Antonio representatives about potentially moving the team to the Alamo City.  It's more than likely Davis is simply using ...
July 29, 2014
Once you get out of the first five rounds in your fantasy draft, taking risks can be the great separator between winning a championship and bringing up the rear and ...
July 29, 2014
When Robert Griffin III took the opening snap of his 2013 NFL campaign without a snap of preseason work, many wonder whether the Redskins had rushed him back. General manager ...
July 29, 2014
New York Giants running back David Wilson underwent offseason neck surgery, which put his NFL career in jeopardy. After a rapid recovery and a return to the gridiron for 2014 ...
July 29, 2014
Kevin Byrne likes Ray Rice. The Baltimore Ravens' Senior Vice President of Public & Community Relations wants you to know that. Rice "is a good guy," Byrne wrote on his blog at the team's ...