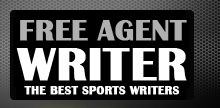 Yankee Addicts
Categories
Featured Sponsors
August 2014 Archive
August 30, 2014
Even though excitement for the 2014 NFL season is reaching a fever pitch with the regular season starting on September 4, it is also an excruciating time for many players ...
August 30, 2014
Quarterback is among the weaknesses on the New York Jets' roster, but that wasn't enough to save the job of Tajh Boyd. The Jets announced their release of the former ...
August 30, 2014
Final roster cuts for NFL teams bring arguably the toughest decisions for coaches to make, and they often leave veteran players and former standouts looking for a new team after ...
August 30, 2014
Going into the 2014 season, Green Bay Packers head coach Mike McCarthy had high expectations for linebacker Sam Barrington, as Bob McGinn wrote in a February article for the Milwaukee ...
August 30, 2014
The preseason is over, and for the Jacksonville Jaguars, things could not have gone much better. Their defense has had an effective pass rush, and their offense has been efficient ...
August 30, 2014
After 11 productive NFL seasons with the Pittsburgh Steelers and Cincinnati Bengals, linebacker James Harrison is retiring at the age of 36.  The five-time Pro Bowler and 2008 NFL Defensive Player ...
August 30, 2014
In fantasy football, knowing which sleepers to take and which to avoid is often the difference between winning and losing. Every year, unheralded players come out of nowhere to shine, and ...
August 30, 2014
Nothing captivates sports fans and gamers alike more than the Madden franchise. With Madden 15 having already hit shelves, there has been no shortage of opinions regarding the new video game. There are ...
August 30, 2014
There are many ways to prepare for a fantasy football draft but nothing is more helpful than partaking in mock drafts when it comes to gauging where players might land ...
August 30, 2014
As NFL teams cut their active rosters down to the league's 53-man regular-season limit, a plethora of players—some of whom are prominent names and have displayed talent at football's highest ...