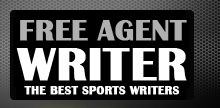 Yankee Addicts
Categories
Featured Sponsors
October 2014 Archive
October 29, 2014
Week 9 of the NFL schedule brings what should be one of the marquee matchups of the 2014 season: the Denver Broncos (6-1) vs. the New England Patriots (6-2). This ...
October 29, 2014
When the NFL schedule is released in late April, we look at the top matchups, try to predict records and focus on teams that could possibly make a deep playoff ...
October 28, 2014
The New Orleans Saints had a huge win against the Packers in Week 8 and are looking forward to a tough matchup at Carolina. Even with a beat-up backfield, Mark ...
October 28, 2014
The Washington Redskins hadn't won two consecutive games since 2012 when they went on a seven-game winning streak to win their division and make the playoffs. Fresh off victories over ...
October 28, 2014
Sunday will mark the 16th time Peyton Manning and Tom Brady square off against each other. And while the legendary quarterbacks have produced a handful of memorable battles, No. 16 ...
October 28, 2014
Doug Martin's staying with the Tampa Bay Buccaneers, and as a result, he's likely stuck in fantasy purgatory from now until the end of the season. The 4 p.m. NFL trade ...
October 28, 2014
Coming off two consecutive wins, the Miami Dolphins will host the San Diego Chargers in Week 9 of the 2014 NFL season. The Dolphins have an opportunity to show that ...
October 28, 2014
New York Giants senior vice president and general manager Jerry Reese met with reporters on Monday to address a variety of questions regarding the team's 3-4 record and his expectations ...
October 28, 2014
The St. Louis Rams gambled on Jake Long when they signed him in the spring of 2013. They gambled knowing he was already well-worn and damaged, needing triceps surgery during ...
October 28, 2014
This season, the NFL has seen a number of defensive players score touchdowns—on offense.  Are defensive players lobbying to get on offense to score touchdowns? Do defensive players want the offensive ...