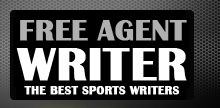 Yankee Addicts
Categories
Featured Sponsors
December 2014 Archive
December 30, 2014
Aaron Rodgers will win the MVP this year. If there was any shred of doubt, it was removed when he showed his toughness and resilience by returning from injury in a ...
December 30, 2014
The Cincinnati Bengals take on the Indianapolis Colts in the Wild Card Round of the NFL playoffs. Who are some X-factors for this matchup? Which team has the edge in this ...
December 30, 2014
It's way too early to discuss what the San Francisco 49ers are going to do in the 2015 NFL draft. Or is it? The 49ers' offseason needs are clear enough to make ...
December 30, 2014
The Chicago Bears have many questions heading into the offseason after firing head coach Marc Trestman and general manager Phil Emery. Who will be their next general manager and head coach? ...
December 30, 2014
There are no such things as locks in the NFL playoffs, and this year is no different.With the Wild Card Round this weekend, which home team among Carolina, Pittsburgh, Indianapolis ...
December 30, 2014
The NFL playoffs kick off this weekend, and we all know the favorites: the New England Patriots, Seattle Seahawks, Denver Broncos and Green Bay Packers.  But which lower-seeded team is the ...
December 30, 2014
The Oakland Raiders finished 2014 with a 3-13 record, missing the postseason for a 12th consecutive season. Which coaches would be a good fit for the struggling Raiders?  Watch as Adam Lefkoe and ...
December 30, 2014
Pittsburgh Steelers running back Le'Veon Bell suffered a knee injury in Week 17 against the Cincinnati Bengals. How concerning is Bell's injury? Is he in danger of missing the Steelers' playoff ...
December 30, 2014
The shock of the final weekend of the regular season may have come in the NFC North title match between the Detroit Lions and Green Bay Packers. At the time ...
December 30, 2014
Oregon's Marcus Mariota is everything a team wants in a franchise quarterback. Mariota isn't an infallible NFL draft prospect, though.  The common theme that will resonate throughout the draft process over ...