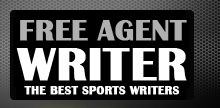 Yankee Addicts
Categories
Featured Sponsors
April 2015 Archive
April 28, 2015
Round 1 of the 2015 NFL draft will take center stage Thursday night, but the drama surrounding rookie selection and last-minute trades will extend far into the league's future.  In just ...
April 28, 2015
The Miami Dolphins made Dion Jordan the third overall pick in the 2013 NFL draft. So enamored with his talents were the Dolphins that they traded up in the first ...
April 28, 2015
The New York Jets hold the No. 6 pick in the 2015 NFL draft and could look to trade down to add more depth to their roster.  What pieces could the ...
April 28, 2015
Numerous members of the Alabama Crimson Tide will be rolling into the 2015 NFL draft starting on Thursday, April 30.  The headliner is wide receiver Amari Cooper. It's very conceivable to ...
April 28, 2015
The NFL draft is now just two days away, and experts from ESPN and Bleacher Report continue to speculate. Will off-field issues send Randy Gregory and Shane Ray plummeting out of ...
April 28, 2015
The San Francisco 49ers hold the 15th pick in the NFL draft and might choose to focus on the defensive side of the ball with it.  Why is Arik Armstead an ...
April 28, 2015
A lot can happen in the final days before the NFL draft. Prospects can hurt or help their stock in the waning moments, front offices can panic and pull the trigger ...
April 28, 2015
Finding answers at inside linebacker—the Green Bay Packers' biggest positional need coming into the 2015 NFL draft—has required general manager Ted Thompson and his staff to sort through numerous red ...
April 28, 2015
Peyton Manning still loves playing football. That much was clear when he surprisingly took a pay cut to stay with the Denver Broncos last month. It was on display again ...
April 28, 2015
Gus Malzahn and the Auburn Tigers figure to have multiple former members of their team joining the professional ranks during the three-day 2015 NFL draft.  While the Tigers lack a potential first-round ...