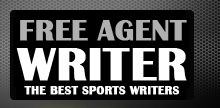 Yankee Addicts
Categories
Featured Sponsors
June 2015 Archive
June 30, 2015
As the offseason drags on, the most talked-about topic will be the final roster cuts in August, unless you want to include the terrifying waters of offseason fantasy football discussions. The ...
June 30, 2015
When the Jacksonville Jaguars or other NFL franchises "demote" someone to the practice squad, it doesn't mean the end for that player's chances at contributing. In fact, a lot of players ...
June 30, 2015
The practice squad is not a very exciting thing to be a part of, and young players may be discouraged if they spend their entire first year on a scout ...
June 30, 2015
Nothing is more important to playing winning football on defense than controlling the line of scrimmage, a job delegated to the gladiators positioned along the defensive line.  This reality makes it ...
June 30, 2015
We're two months away from the Pittsburgh Steelers making final decisions about their 53-man roster for 2015, as well as determining the players who will make up their practice squad ...
June 30, 2015
The Denver Broncos have a talented roster with some young developmental players worth keeping an eye on. This is what the practice squad was created for. Each NFL team can keep up ...
June 30, 2015
We're months away from the Cleveland Browns making their final determinations about their 2015 roster. Training camp practices in full pads and, of course, the team's four preseason games will ...
June 30, 2015
With NFL training camps still a month away, we have officially reached the point in the offseason when rumors, talk and chatter replace on-field activity. Fortunately, offseason talk is exactly what we are ...
June 30, 2015
Jamal Anderson was a talented NFL running back with a bruising style who rushed for over 5,000 yards while playing for the Atlanta Falcons. It was a more physical league ...
June 30, 2015
Like most areas on their revamped roster, the Washington Redskins can fill up their practice squad with some intriguing talents. In particular, two rookies who won't make the final 53 ...