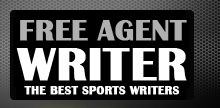 Yankee Addicts
Categories
Featured Sponsors
August 2015 Archive
August 31, 2015
She's studied every cleft and crevice, laboring tirelessly in the name of dimple realism.Pastels that were once dull are now razor-sharp blades, honed to perfection through hours of tracing boyish ...
August 31, 2015
Three years after selecting Ryan Broyles with the hope he could become an elite second receiver next to Calvin Johnson, the Detroit Lions are moving on. Broyles posted a thank-you ...
August 31, 2015
There is more uncertainty at the top of fantasy football drafts than we have seen in past years, but you can still end up with a great team if you ...
August 31, 2015
The 2015 NFL season is right around the corner, making preserving starters' health and whittling down the rosters via those painful annual cuts the main priority for most teams. However, rumors ...
August 31, 2015
The first footage of the movie that promises to bring the NFL's concussion controversy to the mainstream has arrived. Peter King of MMQB was provided with the first exclusive trailer ...
August 31, 2015
Even in the depths of DraftKings fantasy football at the defense and special teams positions, where top-dollar options don't surpass $3,500 in Week 1, there are steals to be had ...
August 31, 2015
The Patriots are guilty of many things. Many, many things. About twice as many things as they are willing to admit, and nearly half the things they are accused of. ...
August 31, 2015
It's been a long time since the New England Patriots opened training camp, and an initial look at the 53-man roster was lacking much of the context we've gained over the ...
August 31, 2015
Four of the Pittsburgh Steelers' five preseason games are over. The real work ahead will be to trim the roster down to its eventually 53 players. That begins this week, ...
August 31, 2015
Three of the Cleveland Browns' four preseason games are in the books, and we're less than two weeks away from the team's season opener against the New York Jets. That ...