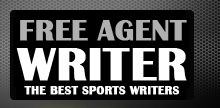 Yankee Addicts
Categories
Featured Sponsors
September 2015 Archive
September 30, 2015
Not only are the Denver Broncos 23-2 straight up in their last 25 home games, they're also 17-8 against the spread during that run, a neat feat considering they're favored ...
September 30, 2015
Are you ready to live a fantasy life without the New England Patriots? As we dive into Week 4, we do so without the services of Tom Brady, Rob Gronkowski and ...
September 30, 2015
The Cincinnati Bengals are off to their second 3-0 start in a row and get a chance to make it 4-0 at home Sunday against Kansas City. And the Bengals ...
September 30, 2015
The Indianapolis Colts will try to continue their dominance of the AFC South when they go for their sixth straight win over the Jacksonville Jaguars on Sunday. The Colts have ...
September 30, 2015
The Atlanta Falcons look to stay unbeaten straight up and against the spread when they host the Houston Texans in a Week 4 NFL betting matchup on Sunday. The Falcons won ...
September 30, 2015
While Josh McCown and Johnny Manziel continue to be the subject of a full-blown quarterback controversy, the Cleveland Browns addressed a third signal-caller Wednesday by signing Austin Davis to a ...
September 30, 2015
The Tampa Bay Buccaneers hope to snap a 10-game home losing streak when they host the undefeated Carolina Panthers in an NFC South matchup on Sunday. The Bucs have gone ...
September 30, 2015
There are plenty of intriguing names and matchups to ponder as the Week 4 DraftKings sleepers and top value plays are revealed. Donte Moncrief ($5,000), Lance Dunbar ($3,600) and Andy ...
September 30, 2015
Even if you missed out on the biggest prizes from Week 4's waiver wire, there are still likely players who can help you win in fantasy football. The top options from ...
September 30, 2015
The nature of the NFL attracts rankings in countless forms, but perhaps none are more important than fantasy football positional rankings. Power rankings provide a nice summary of the league, and ...