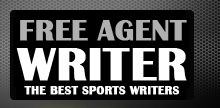 Yankee Addicts
Categories
Featured Sponsors
November 2015 Archive
November 30, 2015
With the calendar about to hit December, the NFL playoff push has finally begun. Division leaders look to create separation from the rest of the pack, while wild-card hopefuls can't ...
November 30, 2015
New England Patriots linebacker Dont'a Hightower suffered a knee injury against the Denver Broncos in Week 12. It is uncertain if he will be able to play against the Philadelphia ...
November 30, 2015
No matter how well you did in Week 12, it is never too early to start thinking about the upcoming set of contests in daily fantasy football. The past week featured ...
November 30, 2015
Thanksgiving has now come and gone, meaning that it's time for the home stretch of the 2015 NFL season. With a massive number of teams still in the mix for ...
November 30, 2015
Week 13 of the 2015 NFL season may as well be called Rivalry Week for all the divisional matchups that are set to take place.  The Detroit Lions will attempt to ...
November 30, 2015
The only thing more confusing than figuring out the NFL playoff picture is figuring out where and when we are supposed to do our shopping these days.  Let's see, there was ...
November 30, 2015
There are plenty of ups and downs when it comes to the NFL season. And we have the proof right here. Let's take a look at some players, teams and even units that ...
November 30, 2015
Although neither the Baltimore Ravens nor the Cleveland Browns are officially eliminated from the AFC playoff race, it's hard to imagine either team making a charge down the stretch as ...
November 30, 2015
The Minnesota Vikings regained control of the NFC North with a 20-10 win over the Atlanta Falcons in Week 12.  Now 8-3, the Vikings hold a one-game lead over the 7-4 ...
November 30, 2015
Well, the NFL was interesting for one week. With the Dallas Cowboys getting Tony Romo back and the Green Bay Packers looking like they got it together just in time, it ...