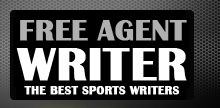 Yankee Addicts
Categories
Featured Sponsors
December 2015 Archive
December 31, 2015
With only one week of games remaining in the 2015 NFL regular season, 10 of the 12 playoff teams are set, including all six in the NFC. While seeding is ...
December 31, 2015
We are just days away from learning the majority of the first-round draft order, which will be set for the nonplayoff teams following Sunday night's action.  The Tennessee Titans are the ...
December 31, 2015
Collective perfection would have assured Cam Newton individual glory as NFL's 2015-16 Most Valuable Player. Now the Carolina Panthers are no longer unbeaten, the case reopens for investigation heading into ...
December 31, 2015
Teams have spent the entire season showing what they can do, but after a week full of upsets it is time to re-evaluate what we know about the squads at ...
December 31, 2015
Even with most of the playoff spots taken, the last week of the NFL regular season is going to feature plenty of drama. Ten teams have already clinched a postseason berth ...
December 31, 2015
As the Indianapolis Colts approach their final regular-season game of the year (that qualifier is likely not necessary), the team's sights are set on division-rival Tennessee and Tennessee alone.  Of course, ...
December 31, 2015
As they head into their final game of the 2015 season, the Tampa Bay Buccaneers have only pride to play for, hoping to end the year on a high note ...
December 31, 2015
While only 14 teams are still alive for the NFL's 12 playoff spots entering Week 17, there is still plenty of mystery surrounding the postseason and how the field will ...
December 31, 2015
Looking at the Super Bowl odds is an easy way to see how the world at large views the NFL's hierarchy. Vegas insiders run numbers that even the biggest advanced ...
December 31, 2015
The 2015 NFL season has flown by, and we are left with just one week in the regular season. Whether you are a veteran in daily fantasy football at this ...