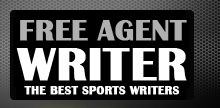 Yankee Addicts
Categories
Featured Sponsors
May 2016 Archive
May 30, 2016
Oakland Raiders linebacker Bruce Irvin appears confident about his new team's playoff chances this upcoming season, as he sees his team breaking out in 2016. Irvin, who signed with Oakland during ...
May 30, 2016
New York Giants co-owner, president and CEO John Mara said he was "open-minded" about having an NFL team in Las Vegas at last week's NFL owners' meetings, according to The ...
May 30, 2016
Buffalo Bills offensive tackle Seantrel Henderson is reportedly set to return to the Buffalo Bills Tuesday after two offseason surgeries for Crohn's disease, per Tyler Dunne of the Buffalo News. ...
May 30, 2016
Miami Dolphins defensive end Dion Jordan was suspended for all of last season, is applying for reinstatement on Wednesday and is eager to prove he isn't a bust.   Jordan spoke ...
May 30, 2016
Green Bay Packers quarterback Aaron Rodgers looks as calm and composed as anyone at his position on the gridiron, but hitting the links with President Barack Obama was a different ...
May 30, 2016
DENVER — Unlike Sam Bradford, his former teammate in Philadelphia, Mark Sanchez isn't the least bit concerned about the fact his team just took a quarterback in the first round of ...
May 30, 2016
Before the Houston Texans selected him with the first overall pick in 2014, one image stood out when you heard Jadeveon Clowney's name: a flying helmet.It belonged to Michigan running back ...
May 30, 2016
While still avoiding the risk of injuries, NFL teams aim to keep competition and motivation high. While not everyone on a roster is fighting for their jobs, thanks to a ...
May 30, 2016
The Denver Broncos are going to have a different look on offense this year, but it's one that is going to be familiar to Broncos fans. Broncos head coach Gary ...
May 30, 2016
Who is the best player at each position in the NFL? It's always a fun discussion, but that's surely not the objective here. It certainly plays a factor on the following ...