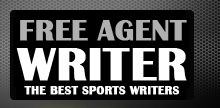 Yankee Addicts
Categories
Featured Sponsors
June 2016 Archive
June 30, 2016
Al Michaels never eats a damn vegetable. Those are his words of warning when we discuss dinner options over the telephone. "You'll see I never eat a damn vegetable." Fair enough. ...
June 30, 2016
The Denver Broncos are Super Bowl champions, and they will defend their title to the best of their abilities this year. So many changes happened this offseason that the team ...
June 30, 2016
The life of an NFL head coach is one of the most pressure-filled jobs among all professional sports. Coaches feel the hot seat almost immediately upon their arrivals, as media ...
June 30, 2016
Buffalo isn't an NFL city anymore. Oh, sure, it has the Buffalo Bills: a team with a classic-yet-iconic brand identity, a long, rich history full of great teams, legendary wins and ...
June 29, 2016
The late Buddy Ryan had what is now an infamous quote tucked away in one of his playbooks. It reflects on a different time, vastly different from now, when players like ...
June 29, 2016
The Indianapolis Colts have a franchise quarterback, and they aren't letting him get away anytime soon.  The team announced Wednesday that it agreed to a new contract with superstar Andrew Luck:  Colts ...
June 29, 2016
Johnny Manziel's football career has not gone as planned, as the 2014 first-round pick is out of the league. But he has people in his corner who want to help ...
June 29, 2016
Former Cleveland Browns quarterback Johnny Manziel said he's prepared to end his partying ways in favor of rigorous training for an NFL comeback once he finishes his vacation in Mexico.  TMZ ...
June 29, 2016
Former NFL quarterback Jake Plummer believes football players don't get enough support for their physical and mental health, and he pointed toward comments from Dallas Cowboys owner Jerry Jones to ...
June 29, 2016
The NFL has struggled when it comes to its players and violence against women. Well, here we go again...   1. The NFL Still Doesn't Get It The NFL said it learned. It ...