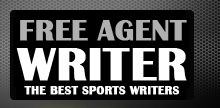 Yankee Addicts
Categories
Featured Sponsors
July 2016 Archive
July 30, 2016
Arizona Cardinals defensive tackle Robert Nkemdiche is dealing with a high ankle sprain as his first NFL training camp opens. Continue for updates. Nkemdiche's Timeline for Return Revealed Saturday, July 30 Cardinals head coach ...
July 30, 2016
While all-time great return man Devin Hester is without a team after the Atlanta Falcons released him, he hopes to play one more season in the NFL.  According to ESPN.com's Vaughn McClure, ...
July 30, 2016
The Oakland Raiders and general manager Reggie McKenzie reached an agreement on a four-year contract extension announced Friday night.  Scott Bair of CSN Bay Area confirmed the news, which keeps McKenzie ...
July 30, 2016
There is no such word as "rebuilding" in the Dallas Cowboys' dictionary. Every year is supposed to be the year the Cowboys make it back to the Super Bowl. Despite a ...
July 30, 2016
NFL training camps are finally here. The long wait for significant football action is over, and teams will spend the next several weeks laying their foundations for the 2016 season. Positional ...
July 30, 2016
Dallas Cowboys owner Jerry Jones said Friday linebacker Damien Wilson suffered an eye injury while playing paintball, per ESPN.com's Todd Archer. Continue for updates. Cowboys Place Wilson on NFI List Friday, July 29 "That's ...
July 30, 2016
New York Jets cornerback Darrelle Revis is recovering from surgery he underwent in March in order to repair a torn ligament in his right wrist. Continue for updates. Revis' Return Is Unknown Friday, ...
July 29, 2016
New York Giants wide receiver Odell Beckham Jr. has become one of the NFL's most high-profile players thanks to his production and personality. His teammates are hoping the outside noise ...
July 29, 2016
The Houston Texans and general manager Rick Smith have agreed to a four-year contract extension that will keep him with the team through the 2020 season, according to John McClain of ...
July 29, 2016
In an ironic twist, Washington Redskins general manager Scot McCloughan injured his hand after hearing an update regarding the health of first-round draft pick Josh Doctson. ESPN 980's Chris Cooley (via ...