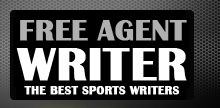 Yankee Addicts
Categories
Featured Sponsors
August 2016 Archive
August 31, 2016
The New Orleans Saints and veteran pass-rusher Paul Kruger agreed to a contract Wednesday, according to Ian Rapoport of NFL Network and Mike Triplett of ESPN.com. Kruger, 30, was released Aug. ...
August 31, 2016
The biggest debate about the first pick in a fantasy football draft seems to always come down to running backs against wide receivers. But the answer might surprise some fantasy owners—either ...
August 31, 2016
Did you draft your fantasy football team yet? No? Good job. With most of the preseason out of the way and a lot of the news that comes with it, you ...
August 31, 2016
We're now just a little over a week away from the start of the 2016 NFL season. Three weeks of preseason have passed, and the fourth and final week of preseason ...
August 31, 2016
We all have different draft strategies when it comes to fantasy football. Some like to draft the best player available, some like to draft quarterbacks early and some like to ...
August 31, 2016
If you thought fans on Twitter were upset about Colin Kaepernick, you should talk to some people around the NFL.       1. 'I Can't Stand Him' Across NFL front offices, there ...
August 31, 2016
If you're going to make an All-Rookie team based off of preseason performances, you might as well do it after Week 3, as Week 4 generally involves backup-heavy lineups, with ...
August 31, 2016
Watching NFL players get cut on Hard Knocks has become an offseason tradition for football fans, and Tuesday's episode was the first of the season with the Los Angeles Rams that ...
August 31, 2016
The Minnesota Vikings announced Tuesday that quarterback Teddy Bridgewater suffered a complete tear of the ACL in his left knee, likely ending his season. The Vikings confirmed Bridgewater didn't suffer any ...
August 30, 2016
After losing the four-way battle for the starting quarterback gig with the Cleveland Browns, Austin Davis was cut by the team on Monday, per Mary Kay Cabot of Cleveland.com. However, he ...