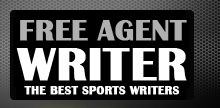 Yankee Addicts
Categories
Featured Sponsors
September 2016 Archive
September 30, 2016
The fantasy football realm is off to a bang in Week 4 thanks to Cincinnati Bengals wide receiver A.J. Green. In a juicy matchup against the Miami Dolphins on Thursday Night ...
September 30, 2016
Check out five of the top NFL and NCAA football headlines from Thursday night and Friday morning. J.J. Watt Undergoes Season-Ending Back Surgery Houston Texans star defensive lineman J.J. Watt underwent surgery to repair a ...
September 30, 2016
Fact: A.J. Green had 173 receiving yards and a touchdown in the Cincinnati Bengals' 22-7 win over the Miami Dolphins on Thursday night. It is Green's eighth career game with ...
September 30, 2016
With the Houston Texans offense struggling through three games this season, head coach Bill O'Brien will try to provide a spark by taking over the play-calling duties. Per John McClain of ...
September 30, 2016
Of all the NFL matchups we scrutinize and pick apart each week, one will almost always get more attention: the marquee wide receiver against the shutdown corner. The sense of isolation ...
September 30, 2016
They say inside linebackers are a dying breed in the NFL, but you'd never know it based on this week's Rookie Review. San Diego's Jatavis Brown, Atlanta's Deion Jones, Washington's Su'a ...
September 30, 2016
BUFFALO, N.Y. — He doesn't surf through the mass of humanity to greet anyone, nor is anyone waiting to greet him. There's no jersey exchange. No reminiscing. He's mired in ...
September 30, 2016
Whether you call it breaking the rules, bending the rules or just getting creative with the rules, cheating has always been a part of the NFL and always will be. This is ...
September 30, 2016
We're three weeks (and one game) into the NFL season. By this time, you've taken a long look at your fantasy football rosters to decide what needs to be done ...
September 30, 2016
It's a big weekend for college football with marquee matchups on Friday night (Stanford vs. Washington) and all day Saturday. That's good news for draft fans and great news for ...