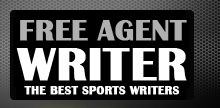 Yankee Addicts
Categories
Featured Sponsors
January 2017 Archive
January 18, 2017
Pittsburgh Steelers wide receiver Antonio Brown issued an apology Tuesday evening for posting a Facebook Live video from the team's locker room following Sunday's 18-16 win over the Kansas City ...
January 18, 2017
Check out five of the top NFL and NCAA football headlines from Tuesday night and Wednesday morning. Anthony Lynn to Chargers: Top Takeaways from Introductory Press Conference "I am so proud to be the ...
January 17, 2017
New Orleans Saints wide receiver Michael Thomas finished the 2016 regular season with the team's franchise rookie records for receptions (92), receiving yards (1,137) and receiving touchdowns (nine), per NFL ...
January 17, 2017
The Seattle Seahawks announced on Tuesday that linebacker K.J. Wright and tight end Jimmy Graham have replaced Washington Redskins linebacker Ryan Kerrigan and tight end Jordan Reed on the NFC ...
January 17, 2017
New York Giants quarterback Eli Manning finished the 2016 regular season with 4,027 passing yards, surpassing 4,000 yards for a franchise-record sixth time, per NFL Communications. While the 2016 campaign wasn't ...
January 17, 2017
The Los Angeles Chargers' move to the City of Angels has not been a smooth one. On Tuesday, rumors began to swirl that the team's quarterback was not happy with ...
January 17, 2017
Alex Smith of the Kansas City Chiefs will replace the Oakland Raiders' Derek Carr as one of the quarterbacks on the AFC roster for the 2017 Pro Bowl. Josh Alper of ...
January 17, 2017
Dallas Cowboys linebacker Sean Lee isn't quite done playing this season, as he was added to the NFC Pro Bowl roster to replace injured Carolina Panthers star Luke Kuechly. Lee's inclusion ...
January 17, 2017
Following a loss in the AFC Divisional Round, Houston Texans defensive end Jadeveon Clowney will be replaced in the Pro Bowl by Cincinnati Bengals defensive end Carlos Dunlap.  Jim Owczarski of ...
January 17, 2017
Anthony Lynn had his introductory press conference as the new head coach of the Los Angeles Chargers on Tuesday. In his opening remarks, however, he nearly had a humorous slip-up. "I ...