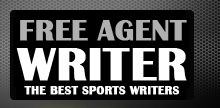 Yankee Addicts
Categories
Featured Sponsors
News published by
April 4, 2014
That's right, for the first time we have guests on the #Football podcast from outside the Bleacher Report ecosphere.  We couldn't be happier to welcome the new president of the NFLPA, ...
March 12, 2014
Panthers fans may not want to hear it. Steve Smith definitely doesn't want to hear it. But Carolina Panthers general manager Dave Gettleman is making the right call in moving on from ...
February 19, 2014
Well what do you know? Another episode of the Bleacher Report #Football podcast with yours truly and B/R NFL Draft guru Matt Miller.  In this latest installment, we touch on the inexplicable ...
June 11, 2013
This is part of a series of videos grading NFL teams' offseasons, from the opening of free agency to the end of the draft, up through OTAs and minicamps.The San Francisco 49ers had four cracks ...
May 17, 2013
Free agency isn't the panacea it was once thought to be, but it can certainly be used to augment a team's talent base. Occasionally, however, free agency produces a player who ...
May 7, 2013
The Detroit Lions have been known for a talented defensive line that causes problems for teams looking to pass the ball.Ziggy Ansah should fit right in. With the departures of Cliff ...
May 7, 2013
You can have your steals or your reaches.Which 2013 NFL draft picks were the absolute best? Well, that somewhat depends on how you define "best." As seen in the video above, ...
May 3, 2013
For years, Green Bay Packers fans have watched as first Brett Favre and then Aaron Rodgers threw the football all over the field, racking up yards and points as though ...
April 17, 2013
JaMarcus Russell has come a long way in a short time. In the last two months, the former first overall pick has dropped nearly 40 pounds, gotten himself back into rhythm ...
April 16, 2013
Manti Te'o and Tyrann Mathieu, two of the more controversial prospects in the 2013 NFL draft, should both be entering NFL training camps this fall. Which player will end up being ...