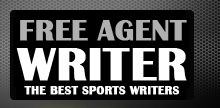 Yankee Addicts
Categories
Featured Sponsors
News published by
August 6, 2010
Every year, all the teams start square.  All 32 teams in first place; and have unlimited potential to make it all the way to the Super Bowl.  Each team has ...
July 27, 2010
With the 2010 NFL football season right around the corner, that can only mean one thing; time for fantasy football drafts. Who should go first? What late rounder will have a breakthrough ...
April 20, 2010
"With the 21st overall pick, the Cincinnati Bengals select…" We all know that Roger Goodell will be saying that much on Thursday night. After that, it's anybody's guess. ...
April 17, 2010
The NFL free agency window is beginning to wind down, all of the sudden, we get a flurry of wide receivers that change hands. The two biggest trades during this ...
March 16, 2010
There have been so many offseason moves involving the Cleveland Browns this offseason.  With the quarterback carousel, adding Scott Fujita and a flurry of other moves, one stands ...