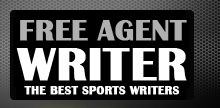 Yankee Addicts
Categories
Featured Sponsors
News published by
October 10, 2012
The New York Jets have scored three offensive touchdowns in their last four games, which has resulted in a barrage of Tim Tebow talk. Rex Ryan and Tony Sparano have ...
September 19, 2012
When the New York Jets gave up a fifth-round pick to take Santonio Holmes from the Pittsburgh Steelers in April of 2010, many believed they had acquired a receiver with ...
August 15, 2012
Tim Tebow's charisma and glistening Herculean abs have caused fans to flock to Cortland by the thousands. If last year was "Tebowmania," somebody is going to need to come up ...