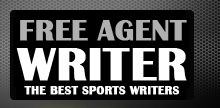 Yankee Addicts
Categories
Featured Sponsors
News published by
April 24, 2013
Denard Robinson has been, and will continue to be, a polarizing figure in Michigan Wolverines football lore.The former Golden Boy of former coach Rich Rodriguez, Robinson was the lone star ...
August 8, 2010
Depending how you feel about rookie hazing in the NFL, or in any sport for that matter, you can't deny that the Denver Broncos' first-round pick, Tim Tebow, isn't taking ...
July 2, 2010
It's no secret that Michael Vick has had his fair share of run-ins with the law. In the not-so-distant past Vick, who was with the Atlanta Falcons at the time, inspired ...
May 26, 2010
Memorial Day weekend is almost here. And you know what that means. League-wide, camps come to a stand still. Sorry 49ers fans, but there won't be much to talk or read about ...
May 19, 2010
Current San Francisco 49er and former Michigan State Spartan football-great Jehuu Caulcrick has a lot on his mind these days. From signing a future contract with the Niners in January, to ...
May 5, 2010
When it comes to answering questions that fans want to know, Jehuu Caulcrick doesn't shy away. The former Michigan State Spartan football standout has been more than willing ...
April 30, 2010
OK. It's time to clear the air. Unless you have been living under a rock for the last four days, you have surely heard about the "question." What was it, you ask? "Was your ...
April 13, 2010
  Saturday night the New York Jets' front office made one of the boldest moves of the NFL off-season. Not only did the powers that be trade a fifth-round draft pick in ...
February 24, 2010
By now, any sports fan worth their salt has heard about LaDainian Tomlinson's departure from San Diego. Two-years in the making; Tomlinson's career as a Charger ended on a bittersweet ...