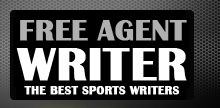 Yankee Addicts
Categories
Featured Sponsors
News published by
August 4, 2010
The competition for free safety was supposed to be one of the headline battles of the 2010 Redskins training camp. With Chris Horton having problems with injuries, Kareem Moore and ...
August 3, 2010
Mike Shanahan is in total control. Coach Shanahan has made a loud-and-clear statement with his handling of Albert Haynesworth. It's Mike's way, or the highway. The Jim Zorn days of letting ...
July 30, 2010
  On August 7, 2010, the Pro Football Hall of Fame in Canton, Ohio will receive the first member of a legendary group of Washington Redskins. Russ Grimm, the best of the ...
July 27, 2010
Nothing ruins your fantasy team quicker than one of your big stars suffering a major injury. Despite knowing that some players face a higher likelihood of getting injured than others, ...
July 22, 2010
The Carolina Panthers were given an overall rating of 75 by the designers of Madden NFL 11, placing them at 23rd in the league. That's a big drop-off from Madden ...
July 21, 2010
Training camp is just around the corner, and the Washington Redskins are ready to launch full force into a new era. While the offseason has provided a great deal of ...
July 20, 2010
Every offseason, there are NFL players who make news in the worst kind of way. Some create headlines with criminal activity, while others create them with plain stupidity. This year has ...
July 16, 2010
The Washington Redskins were the biggest movers in the overall team ratings this year, jumping from 70 last year to 76 points this time around. This reflects the sweeping changes ...
July 14, 2010
Terrell Owens is acting surprised that he hasn't been signed by a new team yet. Unfortunately for him, teams have paid close attention to his past patterns of behavior. There ...
July 12, 2010
The rumors started several weeks ago about the possibility of the Washington Redskins trading for San Diego Chargers' receiver Vincent Jackson. The concept of the trade itself sounded logical. The Redskins' ...