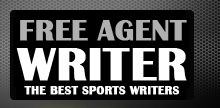 Yankee Addicts
Categories
Featured Sponsors
News published by
July 4, 2012
Happy Fourth of July!With today being the annual celebration of our nation's independence—and therefore an annual celebration of America in general—we here at Bleacher Report thought it appropriate to take ...
June 23, 2012
In America, the NFL is king. The NBA, NHL, MLB, college sports, tennis, golf, etc., all have their moments and are certainly backed by thousands, if not millions, of rabid fans, ...
June 20, 2012
Even in mid-June, it's never too early to get those preliminary preseason prognostications presented. Sure, minicamps aren't over yet, there are some free agents still on the market and every team ...
June 9, 2012
The Ravens are lucky to have Ray Lewis. The Packers are lucky to have Aaron Rodgers. The Lions are lucky to have Calvin Johnson.But the minute one of those superstars ...
May 9, 2012
Last August, the NFL announced that they would revamp and improve their drug testing policy. According to a New York Times report, every player in every season would be tested ...
April 26, 2011
Strange Choice From King In 2011 NFL Mock Draft Peter King's Pick: Von  Miller, OLB/DE, Texas A&MWho King Thinks They Should Take: Anthony Castonzo, OT, Boston College King's Explanation: Buffalo's ...
April 26, 2011
Denver Gets Defensive In 2011 NFL Mock Draft Peter King's Pick: Marcell Dareus, DT, Alabama King's Explanation: Let's get one thing straight: The 6-foot-3, 319-pound Dareus is not the ...
April 26, 2011
QB Opens Up 2011 NFL Mock DraftPeter King's Pick: Cam  Newton,  QB,  AuburnKing's Explanation: "Touchdowns scored in the NFC South last year: Atlanta 47, New Orleans 44, Tampa Bay ...
April 26, 2011
Peter King is probably the most trusted and respected member of the NFL media.We read his weekly columns on SI.com, we read his articles in Sports Illustrated the magazine and ...
April 24, 2011
T-minus four days until one of the best days on the NFL calendar: Draft Day. Teams have been preparing for April 28 for months, scouring over every piece of data no ...