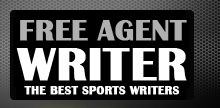 Yankee Addicts
Categories
Featured Sponsors
News published by
March 22, 2010
Here is my second version of the 2010 NFL Draft. A lot has changed over the past few weeks, so it has taken me a while to organize a new ...
March 2, 2010
The NFL Combine serves as one purpose: to see how hard kids are working towards their dream of being an NFL player in a showcase of athleticism. Often, we ...
March 2, 2010
As sports fans, we love to get sucked into the NFL Combine. For some strange reason, we love watching 22-year-old men audition for the NFL in nothing but skintight clothes. At ...
March 2, 2010
Jerry Angelo took over the Bears in 2001 and has tried to rebuild this team through free agency and the draft. For a few years, Angelo did an exceptional job ...
February 26, 2010
We all know the story. Tim Tebow, love him or hate him, is one of the most decorated players in college football history. He has two national championships, won the ...
February 18, 2010
Ahh, the NFL Draft. A time for hope: Where a team can rebuild after an embarrassing season and get the best players from college football.  Some will argue, "is ...