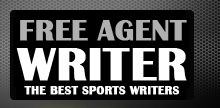 Yankee Addicts
Categories
Featured Sponsors
News published by
January 16, 2011
After soundly thrashing the New York Giants in the second-to-last game of the regular season, the Green Bay Packers still needed a victory over the Chicago Bears in the final ...
January 14, 2011
Eight teams are still in the hunt to make it to Dallas for Super Bowl XLV after last week's Wild Card weekend that saw three of the four home teams ...
January 9, 2011
Jim Harbaugh keeps a picture of his mentor, Bill Walsh, taped to his computer screen.   He played high school football in Palo Alto, CA.   His coaching performance at Stanford made ...
January 7, 2011
At the press conference announcing Jason Garrett as the next head coach of the Dallas Cowboys, Garrett was asked a question about his authority to make coaching staff decisions.  Before ...
January 6, 2011
Tony Sparano's path to becoming an NFL head coach was long and winding.  His coaching career started in 1984 as an offensive line coach at the Univesity of New Haven.  ...
January 4, 2011
On November 9, the Dallas Cowboys mercifully fired Wade Phillips after an embarrassing 45-7 loss to the Green Bay Packers on Monday Night Football, and named Jason Garrett the interim ...