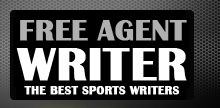 Yankee Addicts
Categories
Featured Sponsors
News published by
January 17, 2017
Dallas Cowboys linebacker Sean Lee isn't quite done playing this season, as he was added to the NFC Pro Bowl roster to replace injured Carolina Panthers star Luke Kuechly. Lee's inclusion ...
January 17, 2017
Following a loss in the AFC Divisional Round, Houston Texans defensive end Jadeveon Clowney will be replaced in the Pro Bowl by Cincinnati Bengals defensive end Carlos Dunlap.  Jim Owczarski of ...
January 17, 2017
Pittsburgh Steelers wide receiver Antonio Brown created a controversy last Sunday following the team's 18-16 win over the Kansas City Chiefs to reach the AFC Championship Game by posting a ...
January 15, 2017
The end of the college football season has brought a rush of underclassmen declaring for the 2017 NFL draft, giving all 32 teams different ways to evaluate the class from ...
January 15, 2017
After a slow start Saturday, the New England Patriots put away the Houston Texans 34-16 to reach the AFC Championship Game for the sixth consecutive season, as Sports Illustrated relayed: In addition to ...
January 15, 2017
With the Seattle Seahawks' season coming to an end in the NFC divisional playoffs, wide receiver Devin Hester's time in the NFL has reached its conclusion.  Per Bob Condotta of the Seattle ...
January 13, 2017
Green Bay Packers cornerback Sam Shields has been charged with two misdemeanors stemming from an police investigation that started back in October.  According to Wisconsin circuit court records, per ESPN's Rob ...
January 13, 2017
The Green Bay Packers don't play until Sunday against the Dallas Cowboys, but they already know wide receiver Jordy Nelson's rib injury will prevent him from taking part in the ...
January 13, 2017
As the Los Angeles Chargers start to build their coaching staff for next season, they are opening up talks for their defensive coordinator position.  Continue for updates.  Gus Bradley Atop Chargers' Wish ...
January 8, 2017
After a 1-15 season, the Cleveland Browns are making a change at defensive coordinator. Head coach Hue Jackson announced on Sunday that Ray Horton has been fired. Former Los Angeles Rams defensive ...