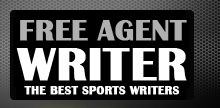 Yankee Addicts
Categories
Featured Sponsors
News published by
December 18, 2010
After a brutal  loss to the Cleveland Browns, the New England Patriots have won against the Indianapolis Colts,  Pittsburgh Steelers, New York Jets, Detroit Lions and the Chicago ...
October 6, 2010
It's truly difficult to see Randy Moss's Patriots career end in a way similar to Manny Ramirez's Red Sox career. However, the deal has been completed (sending Moss to the Vikings ...
September 5, 2010
If I was in charge of the Patriots for one day, and I had the opportunity to make one move, it would not be spending $20 million to sign ...
August 12, 2010
Before the draft, the tight end position looked to be a weak point in an otherwise potent offense. Alge Crumpler is a good blocker and receiver. However, he is old ...
July 27, 2010
The Patriots offense is centered on a consistent, dangerous passing attack. They were third in the league in total offense. Contract issues and injuries may inhibit the Patriots ability to maintain ...
March 30, 2010
The Patriots have never been afraid to trade down in the draft, seemingly trying to rack up as many second round picks as they can. Is this a smart strategy, ...
March 23, 2010
Offensively, the Patriots are set at quarterback and have a very solid offensive line. Sebastian Vollmer proved he was a dominant tackle, shutting down every end he faced (including Dwight ...
March 11, 2010
After winning the division last year, the Patriots' main competitors are the Miami Dolphins and New York Jets. My article is being written pre-draft, so outlooks may certainly change depending on ...
March 11, 2010
The Jets seem to have made the biggest splash this offseason compared to any other East team, as well as during the season. They traded for Braylon Edwards at the ...