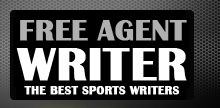 Yankee Addicts
Categories
Featured Sponsors
News published by
December 24, 2013
The Atlanta Falcons had every intention of spoiling Candlestick Park's going away party, but their effort came up short as the San Francisco 49ers prevailed 34-24 behind a late pick-six ...
June 21, 2013
Contrary to what some people outside of the Atlanta may believe, there are some real fans in Atlanta.  While Atlanta may not be a professional sports city (SEC football will ...
June 11, 2013
The Falcons are set to start their final week of organized team activity sessions today (OTAs), and by now we know what OTAs are and what they aren't.  OTA sessions aren't ...
April 13, 2013
The NFL's preseason schedule is out, and the regular-season schedule could be released next week.Although Atlanta fans often feel ignored by the national media, the Falcons did make four regular-season ...
April 13, 2013
NFL teams often find starters on the second day of the draft, but in recent years a few teams have managed reap an even larger return on their initial investment of a ...
April 10, 2013
Most NFL mock drafts get a little redundant about two weeks before the draft because they begin to project the same players to the same teams. Many NFL observers get so caught ...
April 6, 2013
If you take a quick glance at your favorite NFL team's roster, you will realize that BCS conference teams are not the only schools capable of producing pro talent. College football recruiting ...