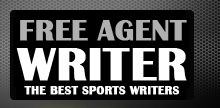 Yankee Addicts
Categories
Featured Sponsors
News published by
September 2, 2010
This is one of the most exciting times of the year in sports.  U.S. Open tennis and college football begin this week, and the NFL begins next weekend.  What are ...
August 8, 2010
The induction of the class of 2010 into the Pro Football Hall of Fame was hailed by some as the best ever.  All-Time leading receiver Jerry Rice and All-Time leading ...
June 14, 2010
The unpredictability of sports is one of its greatest attractions. We all expect the dominant teams and players to capture the titles they are favored to win. However, ...
May 13, 2010
Quarterback is the most glamorous position is all of American Professional Sports. The position is glamorized from the moment someone assumes the position. The good ole' American story ...