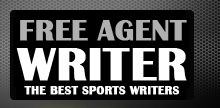 Yankee Addicts
Categories
Featured Sponsors
News published by
March 3, 2011
Thursday is L-day for the NFL—as in "lockout."  The CBA expires and it is widely expected that the NFL owners, who just wrapped up a last minute meeting, will lock ...
January 17, 2011
What's the difference between these two QBs? Well, the obvious answer is one has hair extensions and one doesn't. One is married to a supermodel, and the other isn't. One ...
December 13, 2010
If it weren't so dangerous, it would border on the hysterical. When are the NFL referees going to enforce the rules against defensive players taking head shots against Ben Roethlisberger. ...
November 29, 2010
Twelve weeks into the NFL season the Steelers sport a gaudy 8-3 record. Good enough for the last wild card slot if the playoffs began next week.  But a peek ...
September 5, 2010
I am amazed at the supposedly smart people who are making the case for Charlie Batch to be the starting quarterback for the Steelers now that Byron Leftwich is hurt ...
August 22, 2010
NFL team seeking large, warm bodies who can get a body on a defensive player, extending the life of backfield teammates.  Experience preferred, but not required. Only resumes with photos ...
August 16, 2010
An open letter to Coach Mike Tomlin to change his mind and do what is best for the Pittsburgh Steelers. Start Dennis Dixon for the four games Ben Roethlisberger will ...
May 18, 2010
I was reading an interview of Mike Tomlin in SportingNews recently, when an interesting thought occurred to me. What happens if Ben Roethlisberger only has a four-game suspension as most ...
May 15, 2010
It's not that the Bengals are a bad team. On the contrary, they may be more talented than ever. It is not the curse of the Bungles either that has ...
May 14, 2010
The Baltimore Ravens have made some great moves this off season to really improve the team. Like their arch rivals, the Steelers, anyone who thinks the Ravens are just ...