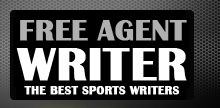 Yankee Addicts
Categories
Featured Sponsors
News published by
January 20, 2011
Jim Harbaugh is the new head coach in San Francisco, so we are going to see a lot of roster moves this offseason. Not quite as many as Pete ...
December 8, 2010
The San Francisco 49ers have already lost eight games this season. They're not mathematically eliminated yet, but it's time to start thinking about the 2011 offseason. The 2010 season is ...
April 8, 2010
So many mock drafts have the 49ers taking C.J. Spiller in the first round. That would completely waste a first round pick. He's not a bad player, but there's simply ...
March 31, 2010
Many San Francisco 49ers fans have been arguing with each other about whether Mike Singletary and the front office have done a good job dealing with the team's quarterbacks. It's ...
March 30, 2010
The Niners are coming into the draft with two first round picks and everyone is expecting results. They're hoping to slip past the depleted Arizona Cardinals and win the NFC ...