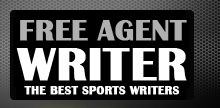 Yankee Addicts
Categories
Featured Sponsors
News published by
December 19, 2010
Joseph Addai will be out again this week, it is important to note that the Colts are 3-4 without him this season. Although I'm not sure whether that has more ...
December 19, 2010
Maurice Jones-Drew and Peyton Manning are fantasy mainstays and Sunday's game should provide decent match-ups for both.Jones-Drew has rushed for 1,278 yards on the ground and five rushing touchdowns, as ...
December 19, 2010
The Indianapolis Colts will face off with the Jacksonville Jaguars Sunday in what is basically the first round of the unofficial playoffs for the Colts. The Colts trail the Jaguars by ...
December 17, 2010
The Colts' season has been filled with ups and downs, evidenced by their by their 7-6 record and Peyton Manning's considerable amount of interceptions (15) compared to last year's season ...
November 18, 2010
Despite several bumps in the road, Peyton Manning and the Indianapolis Colts find themselves atop the AFC South with a 6-3 record, winning four out of the last five games.There ...
November 8, 2010
I've never taken issue with how Philadelphia Eagles fans react to situations on the field, not even the infamous Santa Claus booing that happened many years before I was born. But ...
October 15, 2010
When Redskins Featured Columnist Brandon Keener approached me about answering a few questions on the Indianapolis Colts and Washington Redskins Sunday night showdown, I was more than happy to. It ...
October 8, 2010
The big story this week is Randy Moss and for good reason. He is an explosive playmaker, he's returning to the city where he made the name Moss synonymous with ...
October 1, 2010
The Indianapolis Colts are 2-0 since their dreadful week one loss to the Houston Texans and just like old times, they can credit Peyton Manning's nine touchdown passes, zero interceptions ...
September 18, 2010
Ray Lewis is a bad, bad man and if Dustin Keller didn't know that before, he knows that now.The Baltimore Ravens' stout defensive performance against the New York Jets was ...