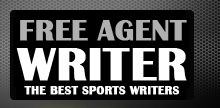 Yankee Addicts
Categories
Featured Sponsors
News published by
June 1, 2013
Jim Wyatt of The Tennessean reports that the Tennessee Titans are undergoing schematic changes defensively, transitioning from their usual Cover 2 to a press-man-oriented scheme, and that change could alter ...
May 29, 2013
When it comes to evaluating and drafting players, one of the most forgotten aspects is schematic fit. A prospect could have all of the necessary measurements, but if he doesn't ...
May 25, 2013
It's not often that the NFL undergoes a schematic transition. In reality, the league is pretty bland when it comes to coaching, but in the past couple of years, things ...
May 21, 2013
One of the lasting images from the past few seasons is Detroit Lions wide receiver Calvin Johnson standing at the line of scrimmage and being covered by two New Orleans ...
May 15, 2013
Chicago Bears general manager Phil Emery had his work cut out for him this offseason. He had to upgrade the offensive line, get more weapons for quarterback Jay Cutler and ...
May 7, 2013
Ted Thompson is one of the best general managers in the NFL when it comes to drafting.He knows the value of prospects and has a good idea of what kind ...
May 4, 2013
There will be a specter coming to the NFL in 2014 and—get this—it's not Jadeveon Clowney. It's Teddy Bridgewater.All we've heard about the last two years is how good Clowney ...
April 17, 2013
The quarterback position for the Arizona Cardinals has undergone an overhaul this offseason. They cut Kevin Kolb and John Skelton, signed former Indianapolis Colts quarterback Drew Stanton in free agency ...
March 27, 2013
One of the most startling developments in the 2012 offseason was when the New England Patriots parted ways with longtime slot receiver Wes Welker and replaced him with the talented ...
March 17, 2013
Manti Te'o has had a roller coaster of a last few months, to say the least. He started off as one of the most popular figures in college football because of ...