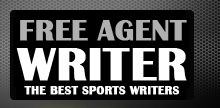 Yankee Addicts
Categories
Featured Sponsors
News published by
January 12, 2017
The road to the Super Bowl is narrowing, and this weekend's slate is going to lead us even closer to the final destination of the 2017 postseason.  The divisional round means ...
December 21, 2016
The dawn of Week 16 means an uneven slate of games in terms of matchups you should care about.  The difference between the haves and have-nots is as plain as possible, ...
December 14, 2016
Week 15 of the regular season means that it is getting easier to pick out the contenders and the pretenders in the NFL hierarchy.  The playoff races are starting to take ...
December 7, 2016
The slate in Week 14 starts with a bang as the rarely relevant Thursday Night Football game kicks off the week with the Oakland Raiders and Kansas City Chiefs vying ...
November 9, 2016
If there's one constant NFL bettors can hang their hat on this season, it's been taking the over.  Vegas just can't seem to set point totals high enough this year. In ...
August 10, 2016
The first round of fantasy football drafts continues to change every season.  It wasn't long ago that the first round was dominated by running backs. Loading up on ball-carriers early was ...
August 5, 2016
The road to fantasy football glory begins with an excellent draft. There are other important factors—making the right trades, scouring the waiver wire and, of course, navigating your lineup decisions on ...
April 30, 2016
Day 2 of the NFL draft separates the Super Bowl contenders from the perennial cellar-dwellers.  It's one thing for teams to get their first-round pick right. That's when the most eyes ...
April 29, 2016
The 2016 NFL draft promised some crazy twists and turns, and it didn't fail to deliver.  The surprises ranged from mildly surprising (a running back going No. 4 overall in this ...
April 25, 2016
The 2016 NFL draft isn't here yet, but there's already been drama. Two trades at the top of the draft are a harbinger for what should be an interesting three ...