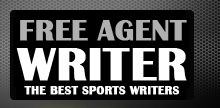 Yankee Addicts
Categories
Featured Sponsors
News published by
April 24, 2011
With the NFL draft less than a week away, owners and GMs are scrambling to finish their player analysis.  Likewise, NFL writers are scrambling to finish their own mock drafts. ...
March 30, 2011
With the Super Bowl almost two months in the past, and the draft still about a month away, the NFL is rather still at this time of year. Fans start to ...
March 22, 2011
The Colts have missed on several of their recent first round picks, so this draft is of the upmost importance. HOF QB Peyton Manning has, at age 34, only a couple ...
March 22, 2011
As the NFL draft approaches, teams look to address area's of need on their roster, adding new talent at some positions and adding depth at others. By adding seven rounds worth ...
March 7, 2011
Football is back in the windy city. A year removed from their first postseason appearance since 2006, optimism is high in Chicago. The addition of Julius Peppers transformed the Bears defense back ...
March 2, 2011
For the first time in the Peyton Manning era, some serious personal decisions await the Colts in the offseason. The suddenly look vulnerable, coming off a 10-6 season and losing in ...
February 21, 2011
It's a common mistake sportswriters and analysts often make—if a player is on a good (or great) team, then because of that team's success, that player is viewed as being ...
February 8, 2011
"I know I can still play... I'm just not sure I want to anymore." A teary-eyed Brett Favre delivered this message to the Green Bay Packers in 2008. Yet, to no ...
February 1, 2011
Aaron Rodgers has been doing his "championship belt" celebration the entire season.  On Sunday, he'll be able to back up his talk with a win in the Superbowl.  If the Packers do ...
January 25, 2011
Finally, the matchup for Super Bowl XLV has been determined.  Two of the NFL's most storied franchises will meet Feb 6th, with The Steelers advancing to their third Super Bowl ...