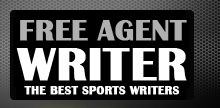 Yankee Addicts
Categories
Featured Sponsors
News published by
April 2, 2014
Bryan Stork, OC, Florida State, (Height: 6'4"; Weight: 315 lbs)   Positives Winner of the 2013 Rimington Trophy, which is given to the best college center in the nation annually. He was a ...
May 17, 2013
We live in interesting times. There are thousands of you,,and just a little under half will be reading on mobile devices. If there's one industry that keeps up with stats, ...
April 16, 2013
The 2013 NFL draft is one that will be remembered as being deep along the offensive and defensive lines. The "depth" of the offensive tackle position is an interesting case. It is ...
March 17, 2013
It's obvious that Eric Fisher and Luke Joeckel are the best two offensive tackles in the 2013 NFL draft, and explaining why will be easy. It's deciding who's better that's ...
October 27, 2012
You have six games left in your fantasy season, and if you are looking for last minute advice, you are doing things wrong.The first bit of advice you will receive ...
October 6, 2012
Week 5 represents a major turning point on the fantasy football schedule.The training wheels have come off.Week 4 was the week your dad walked alongside you, keeping your body upright ...
September 30, 2012
Champions in fantasy football are crowned in Week 16. This means, in the best-case scenario, you will be one-quarter of the way through your fantasy season at the ...
September 15, 2012
Before you set your fantasy football lineups, remember that you need to start your studs in Week 2.No getting tricky—that is my first piece of advice. My second, equally important piece ...
September 8, 2012
There is a phenomenon that exists in fantasy football that I call the "last-minute swindle."The last-minute swindle occurs when fantasy owners swindle themselves out of rostering their best starting unit ...