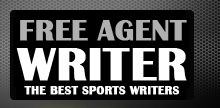 Yankee Addicts
Categories
Featured Sponsors
News published by
March 12, 2014
The first day of 2014 NFL free agency is only a few hours old, and there has already been a flurry of high-profile team activity. On Tuesday, teams quickly committed ...
March 1, 2014
Tuesday was a busy one for the National Football League in terms of the free-agent landscape. While the New Orleans Saints made headlines by slapping the franchise tag on Jimmy Graham, ...
March 1, 2014
It's easy to put too much weight into a player's performance at the NFL Scouting Combine, but it's still a valuable setting for teams to evaluate this year's class of ...
March 1, 2014
If speed kills, Dri Archer had a deadly performance the NFL Scouting Combine this past week in Indianapolis. With a blazing time of 4.26 seconds in the almighty 40-yard dash, Archer ...
November 27, 2013
With all 32 NFL teams in action, there are sure to be some close games this Thanksgiving weekend. Adding to the intensity, there are nine divisional matchups on the slate, and ...
November 19, 2013
Things change as we go later into the season, with contenders separating themselves from the pretenders, but you never know what can happen in the NFL. Predicting football is always ...
November 16, 2013
Looking at the NFL schedule for Week 11, there are a few high-profile matchups that figure to feature some major drama. Playoff berths are on the horizon for the contenders, and ...
November 10, 2013
Looking at the point spreads for the Week 10 NFL matchups, per Covers.com, I expect plenty of games to be decided by at least a touchdown. But the NFL has been ...
November 9, 2013
The fantasy football playoffs are fast approaching with the postseason just a month away for many leagues. We still have a few more weeks with teams on byes, so you ...
November 9, 2013
Home has certainly been sweet to NFL teams through nine weeks of the 2013 season. So far, home teams have put together an 81-53 record, while there are six teams ...