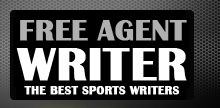 Yankee Addicts
Categories
Featured Sponsors
News published by
March 12, 2011
Look, we're not happy about the NFL lockout. As fans of seeing the people we worshiped on Saturdays for three, four, five or six years, depending on whether you ...
November 11, 2010
I've got few burning questions about this Cameron Newton situation. Funnily enough, it's not about whether Cameron Newton's Dad accepted money from the University of Auburn to bring Cameron Newton ...
August 10, 2010
I don't expect anything from this year's Big Ten season. It's not been a bad few years, with Jan. 1 bowls in every single year since 2005 and two Big Ten ...
July 6, 2010
I've got 10 college football wishes, which will hopefully come true before the start of the season.... 1) Pete Carroll and Reggie Bush 'come clean' about the USC ...
July 5, 2010
Philadelphia Eagles WR Jordan Norwood read my reply (I Twittered it and placed a link on his Facebook page), and said this about the article Playing The Brain Carnage Game ...
April 30, 2010
I didn't see the Blue/White Game, but according to several reports, no one's talking up the prospects for the 2010 team after seeing the first really public performance of the ...
April 6, 2010
Having just written an article that's already sparked nearly 40 posts and over 1,500 reads—most of them telling me that I'm not a Steelers fan, that I don't know what ...
April 6, 2010
Last time I looked, the Pittsburgh Steelers were having a fair amount of problems at quarterback. We know why: Ben Roethlisberger might not play this year because of legal ...
March 27, 2010
So Dad called us to say today. "Go and see 'The Blind Side' - Mum and I have just come from seeing it, and I had tears in my eyes," ...
March 25, 2010
Listen, we at the VFA may have been a little strong on our hammering of Tim Tebow for a less-than-wonderful Wonderlic test, but the point is this: Superman is a ...