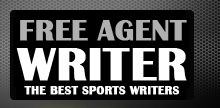 Yankee Addicts
Categories
Featured Sponsors
News published by
June 28, 2014
The Dallas Cowboys have been one of the NFL's busiest teams this offseason, making headlines on several occasions. Longtime starters were let go, more than a few promising rookies were drafted ...
May 24, 2014
The 2014 NFL season might be a ways away, but fantasy football preparation never stops. For those owners who are preparing to invest in some of Dallas' biggest stars, consider ...
May 11, 2014
The Dallas Cowboys focused all of their 2014 seventh-round draft picks on their defense, the last selection being cornerback Terrance Mitchell. Corner is a position that Dallas was wise to address ...
May 11, 2014
Despite losing so much talent on the defensive line, the Dallas Cowboys waited until the seventh round to take a defensive tackle. The team used one of its five final-round ...
May 11, 2014
The Dallas Cowboys addressed the safety position in the 2014 NFL draft, just not when most expected them to. Using one of their five seventh-round selections, the 'Boys took Baylor ...
May 11, 2014
With their plethora of seventh-round selections, the Dallas Cowboys decided to add linebacker Will Smith to their 2014 rookie class. Dallas decided to go back to the linebacker position in the ...
July 20, 2013
The New England Patriots signed quarterback Tim Tebow this offseason, but that doesn't mean they signed him to jump into a big role. New England has put together one of ...
July 20, 2013
The Dallas Cowboys start training camp in just a few days time with the primary goal being to build a postseason-bound team. Big D has missed the playoffs each of ...
July 20, 2013
Over the next month-and-a-half, the Dallas Cowboys will trim their roster down from 87 players to 53. Over 30 players will be shown the door between now and the end ...
July 13, 2013
Much was made of New England's decision to sign quarterback Tim Tebow back on June 10 but it will all be for nothing in September. Tebow will not make the ...